Ask yourself this question: do you really need yet another book on your bookshelf? Or another Minnesota Twins trinket? Do you need more little owls, cats, poodles, more Marvel or DC swag, do you need more vintage ties, more LBJ buttons, more beer cans, more Mad Magazines? Do you really need more of whatever it is you collect?
We know that the Buddhists whisper "no you do not", but that little manic man who sits in his beat-up leather chair in the pit of your brain shouts repeatedly, "Yes, yes, you need more, more, more!"
I have to say that I do not know anyone who has truly embraced the life of the uncluttered, lived Buddha-like without possessions, in a clean apartment with only a wooden bowl and some chopsticks. Most of the people I know collect stuff. However, very few people I know collect stuff like the people whose estate sales were this weekend.
I wasted time at two less-than-fruitful estate sales Friday before the missus and I hit five nice sales in Minneapolis and Edina, sales of people who were, well, they were into collecting. As in, any time they were out-and-about and saw a tchotchke to add to their collections, well, God damn if they didn't have to buy the thing.
I'll make a brief digression to discuss one of those Friday sales–a neat and weird brick home, "east of Swede Hollow" if the ad is to be believed. There was a lot of overpriced junk, from a company I dislike simply because they do not appear to know how to price things ($15 for an old Life Magazine? Please.) There was a lot of junk in this one, a bunch of old magazines, and used garbage, basically a garage sale scattered across two floors. But at the end of the hallway was this neat bookshelf, tucked away in a slim closet with a window behind it. Though that's cool, the last thing you want is for light to hit your books constantly, but I doubt the owners cared.
A kid named Christopher must've lived here, since his name appeared on a few items, like this freaking autographed Playboy bunny photo. I've never seen anything like this before, and I have to say, uh, how fucking worthless is this? I mean, if you were into Playboy, you'd think you'd want an autograph of the centerfold itself (read: nudity), as opposed to this headshot which makes her appear a bit too similar to Joan Crawford in my mind. "Christopher, You're in my dreams…" That inscription would seem so patently false and depressing to me that I'd probably come home and collapse in a chair and drink myself to death.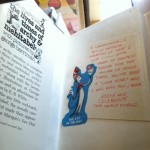 Anyway, Christopher also had a charming relative who enjoyed giving him good books. And Chris seemed to appreciate the nice inscription that came with the book. Exhibit A: a nice copy of Don Marquis' the lives and times of archy & mehitabel, a great little book (and whose titular insect correspondent is the inspiration for this blog.) The inscription reads:
To Christopher, a bit of antique American lit that I love–with deepest thanks for the hours of good times. You've been a "lone star" and I will miss you–much. 
ENJOY AND CELEBRATE THIS LOVELY WORLD.
I imagine, since the writer mentioned this was "antique" lit, that this was a strong friendship between an elderly person and a younger Christopher, and what moves me is not only the lovely earnestness of the inscription, but that the young man obviously cherished it–you may note that this was not actually written into the book, but on a card that Christopher affixed to the inside with a Cat-in-the-Hat sticker. I would have bought this had they come down on the damn $6 price (I already own a copy, anyway.)
On Saturday, our first stop was a charming turn-of-the-last century near-mansion in Minneapolis' Bryn Mawr neighborhood, a towering three story brick home with a beautiful front porch, standing stately over the more modest homes of this pleasant little 'hood. I was impressed with the unbelievable landscaping all around–it seemed as though every neighbor made it a point to sculpt their yard into a grassless work of art. The twisting streets and hills make Bryn Mawr seem to me like the Twin Cities version of the Berkeley (CA) hills.
This was the home of James, a former member of the Minnesota Orchestra, a man who, according to his lovely obit, "was a highly principled man and gave his best for his colleagues." His accompanying photo has him clutching either a bass or a cello, and he wore a Van Dyke beard, making him look very similar to the angry professor in Laurel and Hardy's classic, "The Music Box." But Jim didn't appear to be a man beset by a chronic need to scream and shout (like the gent in "The Music Box") but was instead a caring teacher and colleague… and a man who loved poodles.
Poodles! Boy, he loved his poodles. As you can see from the photo above, with the large poodle statue in front of the gorgeous fireplace, this gent had to be surrounded by poodles. Every room had some little poodle trinket on shelves, on the floors (depending on the size), or on one of his many, many ties.
Yes, more ties. This is one of the few sales with ties where I emerged without purchasing one. Our musician was a collector, you see, which means that he didn't want just a few poodle trinkets, he needed shelves full. Apparently, he was a dapper man, and thus he could not have a few ties, he had to have literally hundreds of ties. And dozens of shoes. And dozens of shoe trees.
Yes, shoe trees. I've found that people who are fixated on their shoes usually have shoe shining kits and shoe trees. You put the latter inside the shoes and they help to keep them in shape. Now, I know people go crazy over their shoes, but man-oh-man, our professor loved his shoes, shoe trees, and ties (and fake Tiffany lamps–there were a good dozen of these as well.)
Sadly, the shoes were very worn, and terribly scuffed. And the ties, damn it all, were ruined–he kept his neckware knotted, which gives them permanent deep wrinkles that no amount of pressing can remove (and since his neck and mine are obviously different, I couldn't just leave the knots where they were–those wrinkles would be square in the center of the tie on my person.)
From there it was a duplex in Uptown that didn't amount to a whole lot, except that, again, there was a person fixated on a trinket–in this case, miniature ceramic animals, the type that Janice's niece enjoys. Obviously the person in question (I couldn't find a name and therefore an obit) enjoyed this menagerie, otherwise they wouldn't have dedicated a whole case to show them off.
Then again, that can be a problem with collecting, no? How often has word got out that you collect something–say baseball memorabilia, Simpsons stuff, or all things whales, to name but three. And how often, then, does every lazy relative or friend then buy something–anything–that fits ever-so-loosely into that category? Suddenly, an interest in owls becomes a polite nod and "thank you" to everyone who found said owl at an estate sale or gift shop, and by then you're damned sick of the things.
Sometimes, you see this manifest itself in collections so giant, and so financially worthless, that you know this must have been the situation. Case in point: the house of the salt-n-pepper shakers. We found ourselves in a modest two story home in the Standish neighborhood, a place with a bunch of neat stuff, including a box of old maps and AAA Triptiks (more on that in a sec.) But in the front foyer were five tables chock full of salt and pepper shakers.
Now, serious collectors of stuff tend to hone their focus toward certain artists, themes, etc. For instance, say you collect, as my sister-in-law does, glass paperweights. Well, she looks for a certain artist (yes, there are signed paperweights), and her collection looks very similar–a lot of blues, a lot of flowery patterns, etc. She wants specific paperweights, not just any old paperweight. But this home had just about every god damn shaker there ever was.
There were wood shakers, ceramic shakers, shakers shaped like light bulbs (left), like mini washer and dryers, like corn, like racist Asian stereotypes, some not like anything, but simply pretty (or ugly as all hell.) There was a pair of cowboy boot salt and pepper shakers, replete with a tiny coat rack that didn't do anything but get knocked over when you reached for the salt.
Not that any of these ever served that purpose. I mean, you'd have to be filling and dumping salt and pepper every week for the rest of your life to use these. And since we arrived late–around 11:00 am–I'm guessing that any serious salt and pepper shaker collectors grabbed those that were of any value.
There were, however, also a small batch of pepper grinders. That prompted a pair of young women to have this strange discussion. I wrote this down verbatim:
Girl 1: Here's grinders, if you enjoy that.
Girl 2: I do enjoy grinding!
Girl 1: Fresh cracked pepper is so zesty on your tastebuds!
Well, it sure is…
This family apparently kept every old map and AAA Triptiks of every vacation they ever took. Back before the internet and GPS, we used to have to rely on maps to get us from here to there on our vacations. Ah, but there was also the Automobile Association of America, who had this nifty member service called the Triptik. You'd tell the agent your destination, and then they'd send you the appropriate maps, with your route highlighted, and a neatly typed list describing each highway and road. It was great because they took into account traffic and construction, so that you got to where you were going in short order.
My friend Barry also hit this sale on his own, and emerged with this neat Soo Line railroad itinerary for a sightseeing trip from Minneapolis to California. How sweet is that?
Or this: there were books galore, but they were all dictionaries, health manuals, and piles and piles and piles and piles of religious works. Inspirational non-fiction and titles like The Robe. And then tucked away in between all this was a paperback copy of Hubert Selby's Last Exit to Brooklyn. I'll let you follow the link to discover how fucking odd that is.
The next sale promised "Indian artifacts", which may have been plundered by the time we arrived, as there wasn't a whole lot of this stuff (and what remained seemed overpriced or worthless.) This house was a decrepit little bungalow in the Kenny neighborhood in South Minneapolis, and was the home of an elderly man named Vernal, a distinguished Navy diesel mechanic, and a man who seemed intent on keeping a firm grip on the past. I wouldn't describe Vern as a "collector", other than to say he collected whatever had come through his life and didn't let them go.
There were scads of old games, including "Camelot", which Parker Bros. modestly describes as "the greatest of all modern games", and this weird book with attached playing cards called "the Marriage Game" (subtitled "Understanding Marital Decision Making." That ought to be a fun evening…) The place just reeked of mothballs, so badly it prompted Janice to say, "I don't think I've ever been in a place where the basement smelled better than the main floor." She was right.
The "Indian artifacts" included, above, a little bag marked "Steve's Indian Outfit", that must've belonged to the son. There were also a row of moccasins going for $30 and up.
Finally, we ended up in a typical "clean" sale in Edina, where we found a nice popcorn popper, but this was were also a sale of a modest collector of postcards. In the "valuables" case were photos and postcards from "Uncle Art", who apparently served in World War I–really cool, too expensive. But downstairs was a box of hundreds of postcards, most from the 80s, at a great price (five for a buck), yet so dull and uninteresting that I only bought ten.
Such is the nature of the collector. It was intriguing to me that we saw a vast array of collectors (I haven't mentioned the first sale on Friday, with the guy's creepy display of 9/11 photos.) You had people who collected only the finest materials–our musician friend of Bryn Mawr and his nice shoes and ties; people who were clearly obsessed with an item, so pervasive it no doubt inspired friends and family to grab said collectible whenever presented with such a treasure–like our salt shaker lady; and then those people who simply collect to keep their memories alive–like the man with all the games and these good folks who had postcards from all their travels, and who traveled a lot, it seemed.
I have my own collections, and I'm probably in the last camp. I like books, but I dump my books after awhile (see you at our garage sale), but I love finding old artifacts that remind me of my youth, especially those halcyon days of the late 1970s when I rooted for the awful baseball team called the Detroit Tigers. In a way, these collections serve as both a gentle pillow on which we can rest our memories, but also as a bulwark against an encroaching and pitiless future, one that becomes increasingly complex and difficult to understand.
How comforting it must be, then, in those moments when we set the paper down or turn off Fox news, to look over and sigh at shelves of little salt and pepper shakers, their holes clean of any trace of salt or pepper, who reassure us with their comforting message of hope. A world in miniature, one that I control, vast armies of small cacti, animals, appliances, a collection that defines you as someone different. Someone special. A collector.
But as some wag once said, "you can't take it with you." And with that, the collection scatters…