Used to be that everybody smoked cigarettes. As recently as three decades ago (if you count that recent), you could light up anywhere. Magazines had tons of advertisements for cigarettes, movie stars lit up during a heated moment, and it was not uncommon for there to be ashtrays in restaurants, ballparks, and bars (obviously), but also at work, in schools, in the air, and even doctor's offices. We truly lived in a smoking society.
My family has firsthand accounts with cigarette smoking. Growing up, my Dad, Grandpa and Grandma all smoked; so did my brother up until 2008. My Great-Grandfather, Grandpa and Dad all died of either lung cancer or emphysema. They made my Grandma sick at the end of her life, though she lived a long time. When my Dad died it was personally devastating; his death, complicated by the ravaging cancer and a stroke, still throws me for a loop on certain days. I don't wish smoking on anyone.
But I do have to say that I still find all the accoutrements of smoking intriguing. There is something undeniably appealing in the way some people would light their cigarettes, Dad included–he had a graceful way of tapping his unfiltered Camel cigarette, lighting it with a wooden match (always a wooden match), and his first puff was usually a beautifully made smoke ring or French inhale.
Actually, you can see him doing it here, in my friend D. H. Johnson's lovely little movie, Static. (Dad's smoking begins at the :45 mark.)
As someone who enjoys fantasizing about the past, the smoking society reveals itself in many interesting ways. One of those is the matchbook industry–before the ugly Bic lighter revolution, everyone lit up with matches or some fancy metal lighter you had to refill (that's another story for another day.) We hit only five of the many sales this weekend, but they took us into the homes of smokers, or maybe even just people who hosted smokers. I imagine back then you had to have an ashtray on hand for guests, too.
We hit a couple of mediocre sales (for us) in the wealthier parts of the city, a couple of divorce or foreclosure situations, one of which netted me the new Steve Jobs bio, a big box of school supplies for Janice to take to school (thanks, Governor, for making sure the Vikings get their money), and an uncut bow tie. But it was our third stop, at a well-kept little bungalow in the Diamond Lake neighborhood, where we first saw signs of the smoking society.
This was the home of Margaret and her hubby, whose name I couldn't find. However, I do know that they enjoyed traveling, heading to Alaska and Hawaii and Southern California. How do I know this? Not from their postcards… but from their matchbooks.
Like picture postcards, matchbooks were yet another way for hotels and motels and bars and taverns and correspondence schools and grocery stores to advertise themselves. If you were staying at the Jollyvi in Anchorage ("The Fairyland of the Northland"?), enjoying their lounge after a mediocre steak dinner you thought was just peachy, you'd light up. Probably resting in the clean ashtray were a couple of matchbooks–one to use right then, one to take home and cherish forever as you remember that trip.
Most of the matchbooks in this person's collection hadn't been used (see box above.) I imagine they kept them to ponder over and reminisce, using a few of them now and again. Maybe they were sneaky, offering them to a guest in the hopes that said visitor would light up, pause, and ask about said matchbook. "Well, it's funny you should mention the Coco Palms…" and with that, a one-hour slide show presentation was embarked upon.
I'm always impressed with the earnestness of pre-irony age advertising. Consider the 29 Super Market matchbook. The front and back covers have their logo and a brief note on their service, but inside the book is this intriguing note, which begins
A PERSONAL MESSAGE TO THE PEOPLE OF WAUSAU AND MARATHON COUNTY:
 The owners and employees of the 29 Super Market want you to know and feel that this is your market and that the owners and the people employed here, use their profits and salaries to help develop Wausau, Marathon County and the State of Wisconsin.
We want to give you our personal "Thank You." You deserve it.
[sic, for sure.] They want you to know and feel, know and feel. How sweet. Other matchbooks, though lacking this "personal" touch, and without the graphic design of others, is even more appealing to this man's imagination. "Crossroads Restaurant and Lounge" in Grangeville, Idaho, with the name of the owner and his wife underneath. Just black lettering on a red matchbook, and I'm thinking suddenly of a remote bar, hardly any customers, a bored and beautiful wife, resentful of the middle aged man who brought her to Idaho on a fistful of empty promises. And then comes the drifter, and suddenly murderous plans are hatched…
James M. Cain aside, this couple also had a few of the strangest matchbooks I've ever seen–giant, one foot long, ruler sized matchbooks from a moving company and Knotts Berry Farm. Strange, and pretty much unused.
Also where did a person get the matchbooks from the La Salle Extension University ("A Correspondence Institution")? Or one of those "Draw Me" correspondence schools? Did said schools leave their matchbooks in bus stations, cafes, public libraries (did they smoke there?) I haven't a clue.
We didn't walk away from this one with much more than a few matchbooks and a cool set of playing cards from Western Airlines before we headed off to our next sales. Here we discovered the home of Erv, another smoker, another traveler and a killer of "musky."
This was the home of Erwin and Jeanne, who'd been married 67 years. You can see to the right that he went by "Erv" (or "Cabbage Patch Erv", right.)  Erv lived in a rambler near a lake out in Minnetonka. Like the Minneapolis home, this was a place where people came to relax and remember the good times on the road.
Erv fished for muskie, and mounted not one, but five different fish heads (three on one, two separately), their gills splayed out like Jerry Lewis' ears, mouths gaping, and I don't know if their eyes form demon-like slits in real life, but I'm guessing the producers of the Piranha movies spent a night at Erv's guest room, sleeping fitfully beneath these evil creatures. The poor folks who had to take money at this sale spent the entire day with these beasts staring down at them. "Probably gave their children nightmares," the one lady said, laughing.
We also found a bag of matchbooks, but the price was way too high–besides I grabbed enough at the last sale. But it did beg the question: why? Why keep these old matchbooks? Just for memories' sake? To use in a fire? If old Erv smoked in the last fifteen years, he'd probably be using some cruddy Bic-style lighter (since he lived to 97, something tells me he didn't smoke.)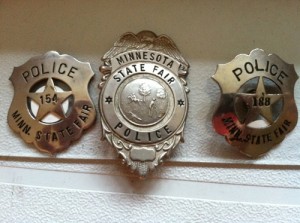 Finally, we headed to the home of a collector of money (including a $1,000 bill, the rest merely bills and silver–cool if you dig that), a State Fair cop, and postcard collector. I couldn't find the name of this dude, but I was fascinated by his collection of State Fair Police badges. "He wasn't a real cop, but was a legitimate officer at the fair," the cowboy hatted, pot pie munching salesman told me. These were the real item from long ago–heavy steel, beautiful, and damned expensive.
They were also selling, sadly, all his piles and piles and piles of  photographs. I went through them, hoping to see if any were of interest, but despite his having a number of old cameras (including a Kodak Duaflex, with this creepy gent on the instruction manual–"That's right, hold the child, hold him! Now smile. Smile!"), he was a terrible photographer. Almost all the photos, from the 60s through the 80s, were out of focus, and terribly composed. I did manage to find some really nice postcards, including a bunch from Michigan, but also a strange menu-postcard. This is literally the menu (about 3″ x 5″) of Bryant's Moutainholm Steak & Chicken Chalet in Branff, Alberta, Canada. On the back is a place for a stamp and an address. Weird.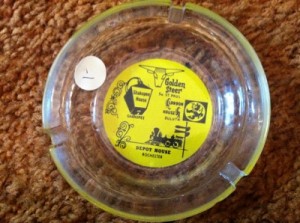 And, as usual on this trip, there was evidence of the smoking society–an ashtray from a bunch of local Twin Cities restaurants (I assume all owned by the same person?) including The Golden Steer of South St. Paul and The Shakopee House.
As on all our estate sale tours, I found my usual assortment of cheap Life magazines. And, of course, inside these Life magazines there were the usual cigarette ads.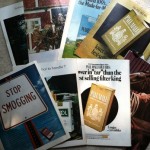 It's amazing to me how every one, every single Life I own (and I have dozens), have cigarette advertisements on the back cover. This can't be a coincidence–it can't be that I happened to grab the ones with the smoking ads on them. The back cover is one of the most expensive and noticeable sections to have an ad (if not the most), and every issue was dominated by cigarettes. Going through the magazines themselves, cigarette companies never bought small ads–an advertisement for Kool or Marlboro or Kent were all full page affairs. Like the weird Lark ad (bottom.)
Despite my family's dark past, I am not a person who wants to ban all tobacco products–if you want to smoke, well, I guess I can't stop you, and shouldn't. I think people should smoke in parks if they feel like it. But I will say that it's nice not to see these full page entreaties to a life of dwindling health. It's nice not to stink of smoke in restaurants, a smell that I once loved (especially coming from Grandma's thing brown Benson & Hedges cigarettes.)
And I will say that it does seem that these old paper matchbooks were a lot more classy than the ugly plastic lighters. If I was caught up in the addiction, as my Dad was, I sometimes think I would want to be classy about it, as he was. Then again, there's absolutely nothing classy about lung cancer. And maybe making it classy made it more difficult for him to stop.
What I know is that I wish he'd never smoked.
So while I can smile at these old matchbooks, think fondly back to the age of the smoking society, I know deep down that the people who lived the good life enjoying trips to Gobbler's Supper Club and reminiscing as they lit up a Taryton, at some point watched in horror as the smoking caught up with them. As smoking always does.