In recent years, the Atlanta Braves held a 'Faith Day' promotion, featuring performances by Christian rock bands and testimonials from Braves players about how Jesus turned their lives around. This is the same team that, back in 1977, drew more than 27,000 fans for a 'Wet T-Shirt' competition. Give me the 1970s, any day. –Dan Epstein, from his great Big Hair and Plastic Grass: A Funky Ride Through Baseball and America in the Swinging 70s
Pardon me while I go old grouch on you: when I was a kid, back in the tumultuous 70s, baseball was different if you were a fan. For starters, you could typically get autographs from your favorite ballplayer, either at a local department store (as I did, glomming Mark Fidrych's scribble at the Saginaw J. C. Penny), or, even better, by writing said athlete and waiting for them to send you a little card with their John Hancock.
I collected baseball cards, but I beat the hell out of them, and typically threw away most of the ones I didn't care about the next year (yes, I do regret that.) Back then, stadiums were weird, cookie-cutter, Astroturf, and somewhat unfriendly to families, as guys would often bring doobies to the bleachers, girls would shake their bra-less torsos, and if there was success or crushing failure, well, the mob would stream onto the diamond, stealing everything that wasn't nailed down and sending the players fleeing.
Oh, how I miss those days.
Well, lately I've been having some fun reliving them, what with Dan Epstein's wonderful book of two years ago (and in paperback in June) and this weekend, at a distant Minnetonka sale that salvaged a pretty dull shopping trip. The house of some kid named Glenn. Dude was a sports fan who loved to get autographs, and then shove 'em in a box, without plastic, without a laser-etch MLB hologram to make them "valuable". I saw a ton of old-school stuff that's vanishing from our landscape, from old autographs, to a man who collected circus memorabilia, to a pencil salesman's display (what?), to a family that loved the presidents–every president, from Carter to George W. Bush. No red state/blue state in this mansion.
Our journey began Thursday, first at a "mansion" estate sale, then wound on Saturday through three or four in Minneapolis with ESC Special Guest stars Barry Kryshka and Stephanie Molstad, and ended, later that afternoon, in Minnetonka, at an ugly split level that would have sent the Brady Bunch into conniption fits.
The St. Paul sale was, in fact, advertised as a "St. Paul Mansion Sale", and sure enough, at 10:30 Thursday morning, there was an hour wait to get in to see this stately pleasure palace. No matter, as it was a sunny day, I had work with me, and so I sat in this dude's driveway, high up on the bluffs on the south side of the Mississippi River. One fellow pointed to the little tower at the top and said, "That'd be a good place to watch the bald eagles." Indeed.
This was a great place for collectors: there were a ton of gorgeous pieces of furniture, a vintage billiard table, accordion, piano, and masks from around the world. But what intrigued me was the Hall of the Presidents exhibit in the living room (I guess that makes it a Living Room of the Presidents.)
In these times, it seems as if there's no one left who simply admires the president for being, well, being the president. Now it's your president, Democrat or Republican, and the man who isn't your man is the devil incarnate. And usually, when I see stuff about presidents, it's of one stripe or the other. Here, you've got Kennedy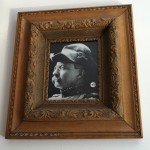 and Nixon and Johnson, nice old framed photos of Theodore Roosevelt, FDR, and this weird one of George W. Bush ("There's a new president in town!")
I dug through the mediocre pile of books and magazines, and found a few of my favorite, Life Magazine, before heading upstairs. And here was the Man Cave, high enough to look out on bald eagles, or the bare breasts of your favorite pinup. One woman giggled, "Someone likes the women's nudies!"
This wasn't an estate sale, but yet another downsizing, and this counted as these rich folks' "junk"–I emerged with this weirdo automatic cocktail mixer that I gave to Barry, and my Life's.
Saturday was pretty dead, but a gorgeous day to be out and about. The best part of it, at least for Barry, was the mansion near the Walker Art Center. This was totally a moving or divorce sale. Now imagine a huge, 4,000+ square foot home, with a mediocre garage sale scattered throughout. Big empty rooms with a table filled with pens and pencils, a couple of tape guns, an old telephone from the 90s, junk. That was this whole damn, worthless sale. However, Barry found a pencil salesman's traveling display (right.) "Leadership in fine writing materials!" says the Eberhard Faber dealer. Inside, there were de
tailed instructions as to why the Eberhard Faber pencil is the nonpareil, as well as a whole row of their pencils, hard lead to soft. Who knew they made so many pencils? And what, pray, is the Eberhard Faber salesperson showing off today?
Really, the rest of the time with Barry and Stephanie was a fine display of the vicissitudes of estate saleing–mostly just garage sale-types, even if the person in question had just died. We walked away, at that point, pretty much with just some school supplies for Janice (and a tape gun–those things are pricey.)
But it was after Stephanie and Barry had to scram that we stumbled upon the Circus and Baseball sale at a weird bungalow in Minnetonka that we found our (relative) gold. This home was in a split-level, dark wood framing white stucco, and ugly as hell. Inside, the place was a feng shui nightmare–immediately inside the front door, it turns out you're in the basement, and go to your right and that's the family room, a bar, and behind that, laundry, etc. Upstairs was the living room and kitchen and bedrooms. For Christ's sake, out the front door and you're looking down on the roof of the garage (to access said garage you had to step down from the basement.)
Well, this gent liked circuses and sports. There were dozens upon dozens of books and posters of the circus–posters on the walls, rolled up in boxes, framed. Pretty beat up, and arriving later in the day it was apparent that no one wanted them, nor the cool Circus World magazines, histories of the circus, Tales of a Circus Promoter, and the like.
One of the employees saw me unrolling the various circus posters, simply out of curiosity mind you, and said, "Make me a deal!" I told him they were interesting, but I really didn't care for clowns all that much. He leaned in and whispered, "I know. These guys have been creeping me out all day."
Seriously, folks, if you wanted to deck out your garage in the latest in Ringling Bros. or Barnum & Bailey circus crap, this was your sale, even on a discounted Sunday morning. I wandered through and was amazed at the largess of the collection, and equally impressed that there wasn't a thing I wanted.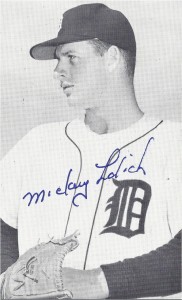 That is, until I got to the kid's room, Glenn's place, where there was a ton of baseball and sports related items from the roaring 70s. Now, I get the feeling Dad was the circus collection, and young Glenn was the one who collected.
But Glenn belonged to a different time. And it was a happy discovery for me, since I was guessing that his collection had been plundered by 2:00 in the afternoon. Glenn had a number of autographs, but as I mentioned earlier, he collected them the way I and all my friends used to collect in the day–writing said player and waiting patiently for them to send an autograph.
Even better, there were a ton of players I adored, most notably Detroit Tigers like Gates Brown, Willie Horton, and one of my favorites, Mickey Lolich, who once said that he was proud to be "a hero to the fat man." He now owns a doughnut shop outside Detroit.
Now, most of these were not real autographs–they're neat postcards with machine printed autographs in blue. Worth about a quarter, fun to own. However, there were a couple of nifty finds–such as this photo of Fernando Valenzuela, a Dodgers pitcher in the early 80s, who was so good and so popular he spawned the "Fernandomania" craze in Los Angeles in 1981, when he became the only player to win the Rookie of the Year award and the Cy Young, all the while taking the Dodgers to the World Championship in that strike-shortened year. Baseball needed him to make up for the strike. Here, his autograph is pre-printed, but he (or a secretary) scribbled in blue, "To Glenn, fdu Uubywber." Or something. I can't quite read it.
My favorite, however, is an autographed Ralph Branca postcard. This is a real autograph, and online research shows that that is indeed his signature, or someone went to a lot of trouble to forge something that wouldn't be worth more than a ten spot if it were genuine.
Branca intrigues me. Why Branca? Certainly I missed a number of players simply by having let five hours of the sale go by, but almost everyone in the box (and these were scattered in a big box, very similar to the way I store my stuff now) was from the 1970s an on (the Don Drysdale postcard a notable exception.) Branca is notable for being the man who gave up Bobby Thomson's famous "Shot Heard 'Round the World", the home run that capped the most storied comeback in baseball history.
Intriguingly, the Dodger left fielder who stood beneath the wall and watched the home run sail over his head was Andy Pafko. Whose card was also in the pile.
Branca was also the subject of one of the most incredible profiles in the New York Times, when a writer who had been speaking with the ballplayer for a book on that tumultuous season, discovered that Branca, who had all his life thought his mother was Italian and Roman Catholic, is instead the scion of a Jewish mother whose entire family was destroyed in the Holocaust, and who escaped to America and converted.
I can only imagine the wonderful stuff I missed by not coming here first. I did glom an autographed Dick Williams postcard (top), and the coolest thing not purchased was in the case out front. This was a bag of grass. When I asked what it was, the lady behind the counter said it was a bag of outfield grass from Game Seven of the 1979 World Series, when the Pirates beat the Orioles in Baltimore. It was pricey–twenty five bucks for a bag of grass. And I couldn't help but wonder how they got it. At that time, you could and often did run out on the field of play when a World Series came to a close.
Here's footage of the last out of that crazy series:
So young Glenn, or a family member, were one of the hordes rushing out to grab a piece of something for their scrapbooks. Thirty-three years later, here it is in a bag waiting to be sold. No, they wouldn't let me take a photo. And as cool as I thought it was, I'm not paying $25.
But I was struck by the earthiness of this baseball fan. Too often I see people nowadays, myself included, who are sporting expensive jerseys, have autographed this-or-that in glass cases (affixed with an MLB hologram to show its authenticity), and here's a kid who took the time to write letters to the teams asking for an autograph. And sometimes he got an autograph, sometimes he got a postcard with a pre-printed signature, and sometimes he didn't get a God damn thing. The kid loved baseball as a whole, and no doubt had the time to write because he didn't have 250 channels and the internet to distract him.
Not that kids who write or ask get autographs. Not without a sawbuck in hand to pay either the player or the team.
It was the same all weekend–who still adores the presidents enough to hang their pictures on their walls, regardless of party and preference? Who goes to the circus, much less collects books and magazines? And who still goes around selling pencils to dealers from a beautiful display like Barry found?
The answer is no one. Maybe that's good. There are great things with the technologies that surround us–far be it from me to write about how bad technology is on a blog. But the baseball stuff moved me to wish there were players, like the Tigers' Verlander and Prince Fielder, whom I or my kid could write and get a courteous reply, if only a "Pete, Best Wishes, Papa Grande."
Or even run out to the field after a World Series. I know it's dangerous to the players, but there seems like such a disconnect. As Epstein wrote, in the epilogue to Big Hair and Plastic Grass, about the final out of the 1980 World Series betwixt the Royals and the Phillies,
[T]here was nothing remotely 1970s about the battalion of helmeted Philadelphia riot squad cops that circled the field to deter any potential invasion of would-be rioters; in retrospect, it seemed more like a glimpse of the cold, hard Reagan years to come.
Not that Glenn could have scored any outfield grass that night, anyway. That series was played entirely on Astroturf…