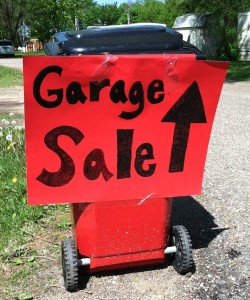 When people ask me, as they frequently do, if I ever go to garage sales, I like to paraphrase the great beer writer Michael Jackson: "My dear, estate sales are a playground, not a prison."
What he meant (and he was responding to a question about whether he drank wine as well as all that beer), and what I mean, is that as much as I love estate sales, in the spring my thoughts often turn to the many joys of garage sales.
Now, I don't just look in the paper for a garage sale, because garage sales, for some reason, promote false advertising. "Huge Sale", Janice and I scream whenever we drive by a sign advertising what we know is going to be a shitty, small sale with nothing but crap (we also shout out "Huge!" in a Cockney accent, so it sounds like "'Uge sale, gov'nur!") Seriously, whenever I've stumbled on a sale that I would legitimately describe as 'huge', that word is never used, but it is simply advertised as a garage sale, and maybe they'll add "books" or "household" or some detail. But huge? They're simply never huge.
I have two key rules to garage sales: first, I only hit them in the spring and very early summer because that is when the neighborhood sales are held. Neighborhood garage sales are when a city's neighborhood association gets together, charges residents who participate, say, ten bucks, and buys an ad, makes maps, and has signs printed up and distributed, so that bargain hunters can drive to area and see literally dozens of sales in a radius of a dozen or so blocks. That way, if you do walk up a driveway and see only junk, you skip on over to the next sale, which might be a hundred feet away. Easy peasy lemon squeezy.
The second key rule, that I hold onto tight and fast, is this: only go to garage sales in neighborhoods that you would want to live in yourself. This is not to take away from the 'burbs, but honestly, I'm guessing that garage sales in Eden Prairie are not going to have the type of stuff I'd want. From my own experiences, Minneapolis' Seward and Uptown neighborhoods fit the bill a lot better.
And so this Friday saw visiting dignitary Mike Haeg and I hop in his aging Subaru and hit the "famous" 100 mile yard sale, a string of yard sales sponsored by the Mississippi River Partners. This is a sale whereby the cities that dot the shores of Mark Twain's favorite water park get their citizens to haul their junk from their basements and boudoirs and out into the sunlight for all to peruse. From Red Wing to Winona on the Minnesota side, from Centerville to Bay City on the Wisconsin side. Hundreds of sales! Mini-doughnuts! Bald eagles! Wow.
We had sunshine, Mike made some damn good coffee, we chowed on meat sticks from Schmidts, and, well, we just looked at junk. Red Wing was our first stop, driving up and down hills, checking out different homes, and walking away and thinking "yeah, this is why we only hit estate sales." One home, whose garage was at the end of a long, roughly 100 foot driveway, had hand-lettered signs everywhere that read "Not responsible for accidents!" Half expecting piles of broken glass, rusty nails and loaded shotguns, this turned out to be nothing more than clothes, for the most part. "There's a 'guys' sale in the park," the lady said, noting our indifference. Mike made a crack about the apparent dangers everywhere, but the owner didn't seem amused.
On the outskirts of town we pulled into a little park on the Mississippi where the Kiwanis Club was holding their annual sale in a small, WPA-style building used for events, dinners, etc. They had a number of tables laid out, but little that was any good. I found this creepy book about how the public schools are making Americans hate themselves, written no doubt by some oversexed Christian woman. (And even stranger, underneath I found, for two bucks, a hardcover copy of the acclaimed baseball novel The Art of Fielding that everyone's been telling me to read.)
When I asked the good folks running the sale what a 'Kiwanis' was, no one knew. "But I'll look it up and let you know next time!" the lady said. Well, OK…
Outside of town we came upon a supremely lazy sale, one that repeated itself a couple three times on this trip. This is what I call the "trailer" sale–as you can see above, some dude throws his shit in the back of a trailer and drives to the edge of Highway 61, pulls out his lawn chair (and his teeth, apparently), and waits for you to buy stuff. No unpacking of boxes. No organization. No prices. We just shook our heads, got back in the car, and drove on.
South of town, and feeling a bit discouraged, Mike and I turned down a little dirt road that took us off Hwy 61 and to a small road that ran along the Mississippi. This was the first fun stop of the journey, a big, fat sale, organized among a group of collectors and antique dealers, an interesting mixture of stuff from home and stuff you might find in an estate sale. They even commissioned a mini-doughnut truck to sell their wares, and the smell of fried sweetness wafted over everything.
Happily, I stumbled upon a box of old, 1970s RC Cola cans, famous (such as they are) for featuring pictures of prominent baseball players. Lo and behold, there was a Mark Fidrych can! (That exclamation point is really only for fans of the Tigers who are as old as I am.) There were the usual suspects: George Brett, Pete Rose, and Dave Cash, the dude who kept saying "I think you got a no-no going!" to Dock Ellis during the latter's LSD-influenced no hitter. A Dock Ellis can, perhaps the only other one I would be interested in, was absent from the collection.
From here we drove down this peaceful road looking for bargains. And here we see the great advantage of a garage sale–the outdoors. Admittedly, estate sales are typically gloomy. Set aside the fact that they occur thanks to a death (or foreclosure, itself not so pleasant), estate sales are indoors. Neighborhood sales and epics like this 100 mile jaunt mean you get to experience the big sky, the big sun, and down this road, the big front yard. Look at it (right)! These good folks have the Mississippi River in their back yard, a corn field across the street, and behind that, and I mean right behind that, pine-covered bluffs that shoot out of the ground like some small Devil's Tower.
I also enjoy long drives with friends, as Mike and I silently chewed on summer sausage and listened to Ronnie Lane while Highway 61 curved around the Mississippi. That's always great.
Unfortunately, the sales down this road revealed nothing of interest, and now we can look at the setbacks of a 100 mile sale. Mike grumbled that the organizers might do everyone a favor by creating some method by which you could communicate the nature of the sale–we found ourselves turning and driving a good four miles only to find tables filled with baby junk. Often, we did a "drive by", where we slowed and shook our heads at the dude selling homemade birdhouses and nothing more. Neighborhood sales are very concentrated–this sale, even though it was a gorgeous drive, meant a ton of wasted time.
A small village called Frontenac was next. More of the usual disappointments, though being in a neighborhood of sorts at least meant you had a lot more sales in a smaller area. Still, there wasn't much to be found–though I did notice that people's garages reflect a lot about them. Often, or always, these are the "man caves", the places of retreat for the stereotypical hen-pecked husband. I saw this weird old fridge with these photos and the "Try Burnin' This One… Asshole!" patch, which I guess you sew onto L. A. Dodger jerseys.
Other garages had cut outs of Rhett Butler (that one's for the lady of the house?), the usual automotive signs and advertisements, beer displays, tons of Vikings and Packers crap, and then of course there's the signs for the sale itself–you know, "Not responsible for accidents", "Make an offer", and my favorite, right, where the person in question seemed to think that the old 'you break it you bought it' was cliched, so instead there's this overwritten wonder: "If you break it–consider it Sold to you!" Smiley face.
Mike and I had a bit of success at a house for sale–and it was for sale by owner, and you knew that because there was a 4′ x 6′ plywood board nailed to the front of the three-season porch that said as much (and in childish, handpainted scrawl.) They had a ton of old books and junk, and Mike found a pair of old catalogues from some engine trade shows in the 1980s (featuring some of the most amazing old tractors I've ever seen.) I glommed some vintage postcards for a great discount.
Our plan was to cut across Wabasha to the Wisconsin side, stopping first at the Old Bank Bar in Lake City for a pair of awesome hamburgers (with an inexplicably amazing tomato slice on each–how did they get blood red, fresh toms in Minnesota in May?) We'd hit the Lake City sales, of course, and here Mike grabbed his prize–a ten dollar rock tumbler, to polish rocks for his daughter. The thing was damned heavy, nearly wrecked my jeans (grinding long gashes of rust into them), and made Mike cackle wickedly the whole rest of our trip, as he imagined the month of rocks tumbling loudly in his garage, driving his wife and him to the brink of insanity.
But I digress. We cut across to Wisconsin, and by now the sunlight had given way to the flat ceiling of gray clouds that would cover the state for the next two days, bringing rain and misery to our fair land. We were both fairly exhausted, at least I was, despite guzzling an entire thermos of Mike's strong java. One more sale unearthed a few more postcards, some cool Life magazines, and a Japanese pig face steamer, that looks like something Hannibal Lecter might've enjoyed using. (You drape it over a pan filled with boiling veggies or meat, and use chopsticks in the nostrils to lift it off–no joke.) At this sale I even found something for Janice–a bottle of maple syrup this gent made himself.
Both Mike and I agreed that we probably wouldn't ever do the 100 mile garage sale again, since our swag pile was thin and it was a long drive. But I'll say that the sunlight, good company, good music, and friendly people were a nice change of pace from the estate sale circuit. Garage sales are always–always–less productive (unless you have small children needing clothes and toys–then they're a bonanza), but there is something cheery about them, and you don't have to run elbows with collectors, deal with numbers, with high(er) prices, and you get some fresh air, exercise, and a bit of vitamin C from our very own star.
It's good to get out of the basements of the dead now and again…