The kids of today should defend themselves against the 70's!
It's not reality,
It's just someone else's sentimentality…
–Mike Watt, "Against the 70s"
By now you should know that I'm a man who's fully entrenched in the past. I love reading old books and magazines, wear vintage ties with an outdated four-in-hand knot, and sigh repeatedly when watching Have Gun Will Travel or my favorite episode of The Twilight Zone. The past seems like such a warm and friendly place to me.
But I'm a bit wise with my years as well. Much as I love reminiscing about my conscious first decade (I was born in '68), I'm aware that there were some, well, some drawbacks, too. When I peruse the old Life Magazines that have such a fascination for me, I see some of the worst of the past as well. The foods were awful, frozen, canned and stuffed into plastic squeeze tubes, and everyone crowing about how delicious this shit could be. Ads for smoking, for the worst beer, with women draped over everything like a new Tigerskin rug. Politics and the world scene may not seem so horrible in hindsight, but at the time it seemed as though Watergate, Vietnam, and others would ruin this country.  Compared to the shit we're in now they seem quaint. As someday this decade will seem quaint.
Every estate sale is a time machine into the past, but especially into the 1970s, for the adults of that day are retiring, downsizing, and, often thanks to cigarettes, dying. This weekend's sales were no different. We were joined by ESC Special Guest Stars Gabe and Faith Angieri and their daughter Clementina, who kept the crowds amused on that gloomy, rainy Saturday. But this weekend I couldn't help but reflect on the homes of that strange, wonderful, terrible decade.
Our first stop was a nice, clean home in Richfield. This was the home of a plumber, as noted by his Roto-Rooter shirt, various plumbing manuals, and a few cartoons from newspapers and magazines that poked fun at men in the plumbing trade having to stick their hands in toilets, etc. But this guy, or his wife, or both, obviously needed a bright and comfy place to reside–were it not for the cloudy day, sunlight would drench this home. Maybe his days wrestling with pipes in people's dank basements made him want a place to come back to that felt dry and warm. Even their basement was a nice place to loaf.
Dude also enjoyed "fine" art–there were a ton of overpriced oil paintings, including this forlorn sailor (above, right) and a replica of N. C. Wyeth's Treasure Island illustration, which only made this gent's work pale in comparison (there was a brochure with a note about the artist, which I'll leave out since it wasn't very good and he's still alive and living locally.) Gabe walked away happy, with stuff that would probably make our host proud: an old circular saw and drill (both worked) and a maul to split wood. Faith walked out with some hats that looked great on her, and a purse.
From there we ventured to Minneapolis' Page Neighborhood to check out a sale that was a bit more of a "digger's sale", and one in stark contrast to the former–here was a person who either hadn't the resources to stay in the present, or felt comfortable with the furnishings of the past.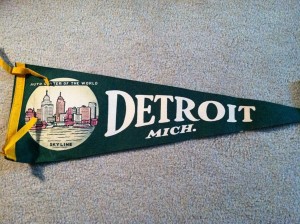 Until we stumbled on a surprise sale in Plymouth the next day, this Clinton Avenue home was probably the most productive. Gabe and Faith came away with a number of puzzles for Clementina, a stack of Old Curiosity Shop plates ($12 for the set, and according to Gabe worth a lot more online), and I scored a city of Detroit pennant and a pair of small tie bars, little decorative metal bars, in silver and gold, that attach to your collar and push the knot of your tie up, 40s style like my dear Grandpa Derr used to wear. That's where I also scored two Life magazines, and this sad, dour Atlantic, from the heart of the 70s, with the heading "Women Against Men–A Special Issue".
Reading that issue later reminds me of the sad, sad times of the 70s, when mom and stepmom were trying to make a living in a land that horribly underpaid women (and didn't give them a lot of opportunity), and where, as the Atlantic's staff pondered, women were against men simply because they wanted the same respect. (I'll give the magazine credit for having a number of women on staff, including the managing editor, so this wasn't like Hugh Hefner style journalism.)
Who lived here? A pastor and his wife, if the obits are to be believed. The lady of the house, who died in 2007, was born in 1913, in Cokato, MN, " "just as the morning train came rumbling through," according to the obit. The old carpeting, furniture and appliances were probably what a pastor's family could afford.
Though the rain we ventured north, to a pair of sales from people who simply loved the 1970s, and couldn't seem to move on, for whatever reason.
The first was a small bungalow in the Shingle Creek neighborhood, the home of a machinist who may or may not have ever lived with a woman. It was hard to tell–there was lots of guys' stuff, from sexy picture records (right) to stag magazines like Gee-Whiz and Snappy to his box of overpriced machinists' tools.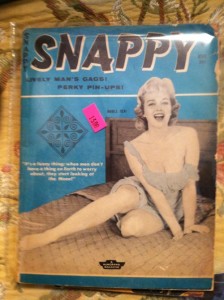 This man totally lived in the past–but you wonder, was this simply because he dug the stuff he grew up with, or did economics play a part? Remember, it costs a lot of money to rip out carpets that seemed like a good idea in 1974 or 1982 and paint and buy new furniture. Then there's taste: as you get older you also get less and less interested in the pursuits of the young. Maybe our man looked at online porn and thought it was classless, too augmented, lacking the humor of these old men's magazines.
The place was a wreck and this particular company doesn't organize well nor price things well. Maybe a torn Bud Man poster's worth $25, but no one'll buy it when it's fallen behind a cabinet in the front room.
From there we were hooked by a garage sale posing as an estate sale, but it was in nearby Brooklyn Park, and since we were there, we figured, what the hell. We certainly could have driven on by–there was a damp garage packed with stuff on long tables, a rickety tent with clothes, and in the front room, by the family devouring what smelled like Betty Crock Bologna Helper, was a TV. Nothing more.
We stopped anyway, and actually found a couple of items. We also found a certain type of, er, collector. Here was the man who loved breasts. Now, I won't lie, I have a certain affection for parts of the female anatomy, I just don't choose to celebrate this passion with quite the same gusto as this discerning gentleman. I mean, for all that is holy, those are a pair of salt shakers that look like boobs (right.) My God. My fucking God. The woman has no head, either. For the mysogynistic serial killer in your life…
Why stop there? How about a notepad with more bosomy fun? I like the "From the Desk of…" How distinguished.
From there it was the warehouse sale that Birkeland holds every weekend. Nothing there as usual, except… this weird little cottage-ware butter dish that Janice was ogling but passed thanks to its $45 price tag at the magical mansion last week. Well, whadya know, here it was again for a mere $12. Sold.
Unfortunately for Gabe and Faith, Janice and I found another sale in Golden Valley that wasn't in the newspaper. This was the home of a lovely woman named Marilyn, who "died suddenly before she could enjoy her favorite oyster stuffing on Thanksgiving." Marilyn and her husband, Robert, were dapper dressers who loved to eat and read books. Tons of books–classics galore, but by Sunday it was pretty well picked over, even though I did manage to glom a loaning copy of perhaps my favorite book (and the one that most inspired me as a writer), Joseph Mitchell's Up in the Old Hotel.
This was a "good vibes" sale, as Janice went crazy, along with about five other women, going through Marilyn's clothes, which were bountiful–Janice came away with a bagful of Ralph Lauren, Talbot, Anne Klein, and more (those are good brands, right?) We know Marilyn and Robert were hearty eaters, not just from her obit, but from the variety of stains that appeared on various pants and shirts and slacks. I went practically out of my mind finding a clean (not the pants) seersucker suit, and the dude had Polo dress shirts still in their packaging and full of pins. As with Janice, I found myself chatting with another man, a good foot shorter and a hundred pounds heavier, and we marveled that half of Robert's stuff fit him, the other half fit me. Go figure. (You can see the tie bar in use in the photo.)
Marilyn had good taste, but she was also a product of the 60s and 70s that I am always impressed with. We know of that time as the "me" decade, but it was also a time of great civic unrest, I'd say a hell of a lot greater than today. Marilyn was in the thick of it: born in New York, she came to embrace Minnesota and its politics, and was "the first vice-chairwoman of the Democratic party" and "the highest party officer to come out against Johnson during the Vietnam war." She enjoyed bookstores and the Twins and spirited debates.
And now maybe we wonder if her clean, well-carpeted (modern, not shag), and tasteful place, with its 70s mural in the kitchen was a way to remember when she was young, full of fight, and, even when Watergate and the McGovern defeat were still painful and fresh, there seemed to be hope, real progressive hope for the future. Perhaps this nod to the 70s was a way for her to open up a spirited debate with young and old about social responsibility.
I think Mike Watt's song "Against the 70s", ruinously sung by Eddie Vedder, has its points–the best of which is to live for today and don't take crap from the elders stuck in their sentimental bullshit. Learn from the past, kiddies, but make the present something alive–even as you age, I think. But Watt forgets all the great things from the 70s–like any time period there's great music and art and literature. Not all of it is great, but you can say that about every decade.
I like Marilyn's home the most, because she and Robert seemed content to bridge the gap between both (though certainly they could afford it–these were not poor people.) As for me, I'll continue to lament modern baseball vs. 70s baseball and wish that there were movies as good as those dark, pessimistic classics from that era. But even though I read these old mags, and wear these old clothes, I'm hoping the September of my years are firmly in the present, and not September 1976.