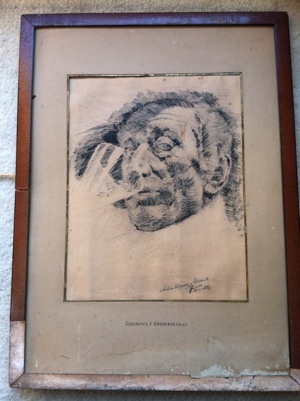 When you live in a dismal town or suburb, bereft of the internet or cable television, unable to drive and far from any challenging diversion, it must seem like life is a veritable wasteland. Wandering through a pair of sad homes in Bloomington and Richfield with ESC special guest star Andy Sturdevant, we could only shudder at the thought of growing up in a place where stealing your father's Playboy magazines served as the height of intellectual challenge and teenage rebellion. Andy said he grew up in homes similar to these; my home town is much like Bloomington but not near a city as hip as Minneapolis.
There but for the grace of God…
This weekend's estate sales took us from a beautiful older home in the Como neighborhood of St. Paul, to the dismal post-war bungalows of Richfield and Bloomington, and then to a warehouse sale in Golden Valley that was, as usual, less-than-stellar. This week saw some interesting surprises, including, perhaps, a pen-and-ink sketch from 1892 that might be worth thousands of dollars. That's damned unlikely, but the fact that I still have to do research on this thing is a bit of an adrenaline rush.
The first sale on Commonwealth Avenue in St. Paul could have been a 'shoes off' sale if it weren't for the fact that a woman was sitting outside the home who said "Don't take your shoes off, we're going to redo the floor!" Now, I don't take my shoes off unless someone tells me, so I'm fine, thank you. But one thing we learned about this particular sale, from a company I've never heard of, is that their staff is mouthy. In a good way.
This sale was from the estate of a man named "John". John was a traveler I think, and spoke many languages, including French. This was a place with a ton of beautiful antiques–nice old couches, tables, a dynamite French centerpiece a glass and pewter affair that, if done right, would fill your table with beautiful flowers, laid out in circles like a model railroad set. (At $1,200 it was not a steal.) There was tons of crystal, tons of nice silverware, and usually in these sales–antiques oriented ones, I mean–I find that a person like me doesn't find too much they can afford. It's expensive, and besides I'm not in the market for furniture.
However, these guys didn't know how to price the extras. A nearly new lazy-Susan-style deluxe Scrabble set? One dollar? Thank you, I'll take that. A sweet little leather bound book, Bird Guide–Land Birds East of the Rockies, from 1910 for two bucks? Here's your Jefferson. A ceramic cow creamer–"a cream puker" as Andy put it–for the same price? Sold.
Speaking of the man, Colonel Sturdevant found himself a peachy wicker picnic basket set, with plates, silverware, etc. One of the salespeople said the woman of the house received it as a wedding present, but never used it. And when Andy went to pay for it, he had his slip but no basket–it was in the other room. The cashier, a big guy with a salesman's swagger, said in rapid fire, Ben Hecht-style dialogue: "You got the picnic basket? What? Where is it? Oh, never mind, give me the money."
Now, this was the sale with the mystery. As you can see above (and to the right), I found a weird self-portrait of a painter named Antonio Casanova y Estorach, from either 1892 or 1894. I think it's real, as in, it's not a print (and thus making it over 110 years old.) It's enigmatic and interesting, the elderly gent (Estorach died in 1896) sipping some booze while giving you the eye. There's virtually nothing about him (at least in English) online. Who is Estorach? Is this thing worth any money? It's beat to hell, obviously survived a small flood of some kind (the bottom three inches are warped and the wooden frame is flaking away and rotted.) But at eight bucks, how could I go wrong? At the very least, Casanova will be sharing a drink with me for as long as I keep him on my wall. (If anyone knows where and whom I might speak with to get to the bottom of this thing, I'd appreciate it.)
Richfield was next, the endless run of ticky-tacky homes, streets with no sidewalks, little bungalows with little character. This was the first of two homes that sent Andy, Janice and I into that small funk, as we pondered the existence of the teenage children of these folks, kids growing up in the 60s, having to be content watching network TV and reading too much crappy Science Fiction.
Or stealing their father's Playboys. I like vintage magazines, and there was a stack of the premiere men's magazine from the 1960s. Apparently, these were near and dear to the owner (I couldn't find obit info on anyone this weekend, save for John in St. Paul) since they'd been repaired with ancient masking tape and kept all these fifty-plus years.
Playboy is an awful magazine, though. It seems to me to celebrate the worst in men, and if you were an avid reader of the thing you'd dress and act like the biggest douchebags on the planet. And they're just plain weird. One in particular was especially strange, the March 1967 issue with an interview with Orson Welles (good) and a nude pictorial, by Roman Polanski, of his then-wife Sharon Tate (bad, oh so bad.) You know, the Sharon Tate who would be murdered by Charles Manson's family photographed by her child-rapist husband.
There's also an ad inside for the Duncan Executive yo-yo. You just can't make this shit up.
And so we drove further south, to Bloomington, to yet another bungalow on a street with no sidewalks and virtually the same God damn look inside–dour and depressing. These sadden us just because it seems as though the people who lived in them were so resigned to their fate. That fate, of course, being America in the 60s, a time of plastics, TV dinners, cheap paperbacks, etc. This family (and the last) seemed content to live their lives frozen in this time, and there were few reflections of a person interested in art, poetry, in doing any projects of their own, nothing but the most pedantic lifestyle imaginable.
However, Andy emerged with a plate celebrating the Kennedy brothers–John and Robert, forget that no-good Teddy–that he said he was going to hang on his wall. Once again, we found ourselves happy that we weren't a young man or woman trapped in the desolate wasteland of suburbia. There were walls of crappy books, and a wall of National Geographics and tamer men's magizines–no Playboy, but True and Argosy. You know, the real he-man type of rag, the former of which had an article titled "Divorce: the Swindle That's Breaking Men's Backs!" (The cover had it as "Divorce! The Legal Joke That Turns Freedom to Farce!") I did not realize that "in some states it's easier to beat a murder rap than it is to get out of a bad marriage. Why? Because our antiquated divorce laws are loaded in favor of the avaricious female." Watch it, guys.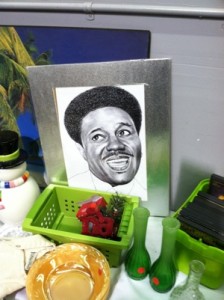 From Bloomington we drove west, to the Birkeland and Associates warehouse sale, which occurs nearly every week. Birkeland & Co. have this space where I believe they gather two or three smaller sales, which makes it easier to staff. Usually, these sales don't have a lot of interesting stuff, and we usually emerge with nothing other than the promise never to return.
We wanted to show Andy a warehouse sale, and I wanted to write about one, so off we went. In this case, we saw some interesting things, though nothing we'd buy–like the freaky picture of Bernie Mac (right.) Most touching, to me, was a moth-ball reeking navy chest, owned by one Elmer Carl Jenson, of the U. S. Naval Reserve, 6th Construction Battalion. Just a wood chest, nothing special. Ah, but open it up and your heart is touched. There, affixed to the lid, is a framed portrait of Elmer's lady love, Emma. How sweet is that?
Andy found himself a 'rare' red George McGovern button, to affix to his lapel and to go along with what I imagine is his giant pile of McGovern collectibles, since Sturdevant is mad for the Senator and former presidential candidate.
In the end, I was struck by the excess of manly material on this weekend's trip–there wasn't all that much that was feminine, a few clothes, etc., but there was a ton of guy's stuff, a lot of clothes, but you can imagine how bad the ties and jackets are for a man who still holds onto his Argosy magazines from sixty years back. Lazy guys, too–no rods and reels and guns and sporting equipment.
We wondered what people would think of our lives if it happened to be that a sale was held to let go of  what we'd collected in our lifetimes–I imagine people would be fighting over Andy's framed certificate of his Kentucky Colonelship, and they'd go crazy for a lot of my graphic novels, provided I keep them in good shape (that's no guarantee.) And of course these sales have often been picked over by the time you get to them, even if you're the first in the door–there's family, friends, relatives, and I would guess (hell, I would hope) that the people who run the sales get a shot at buying their fill for all the work they do. So who knows, maybe after that gauntlet, what would be left of Andy's life and my life would make you wonder if I didn't live a sad empty existence reading old Life magazines and eating from ugly Crate & Barrel plates.
Janice and I emerged from this week's sales with the riddle that is Antonio Casanova y Estorach, a deluxe Scrabble game, Playboy and other men's magazines, a bird book, a cow cream puker, a couple of cookbooks that stink, a bag of pencils for ISD 281, and Andy's plate, picnic basket and McGovern button. There have been better weekends for swag, but this one was still damned fun.