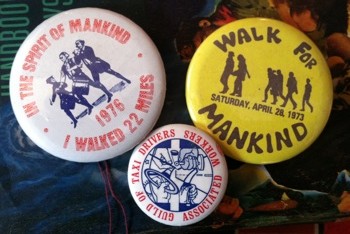 Who likes to shop? I sure don't. Clothes shopping, shoe shopping, and, cripes almighty, shopping for towels or linens of any sort drives me up a wall. A set of sheets costs a hundred dollars. Do you know how many books you can buy for a hundred bucks?
Ah, but therein exists yet another blessed joy of estate sale-ing. You can buy most of your clothes (no underwear or sox, natch), your linens, and especially your Goddam sheets at estate sales and get the benefit of wandering through the lives of your fellow citizens. You get your product and you get a story. That beats the Mall of America, every time.
This weekend exemplified "estate sale karma", wherein a person who hits these sales frequently is rewarded with exactly what they're looking for. A few weeks ago, I took a good stretch in bed and ripped a hole in the contour sheet big enough to let a herd of cats leap through. Since then, we've been avoiding buying sheets, mostly because they're so damned expensive. And, as I said, I hate shopping for sheets.
Now, sheets at estate sales are typically horrible. They've been worn thin from years and years of use, are mismatched, or have hideous patterns or are in grotesque colors. Seriously, I have not found a good set of sheets in all my years of roaming the estate sales of town. Until this weekend.
But I'm skipping ahead a bit. Janice and I hit four sales this weekend, one in Edina, two in South Minneapolis, and one in Northeast Minneapolis. The first and last were clean "shoes off" sales. The first was the swanky home of a high falutin' lawyer, whose house was an architectural marvel, carved into the side of a hill, a modern, bright place with beautiful glass brick showers and white, white carpeting. Unfortunately, there wasn't anything for us in there. Mostly computers, furniture I wouldn't buy even if it was a good price, artwork, etc. We took our shoes off, took a quick wander, and headed back out.
The next sale was a tiny bit more intriguing. A modest little bungalow in south Minneapolis, not quite a "diggers" sale, but full of weird little ephemera. You walk into the front door, and the living room, with its gold and black shag carpeting, holds tables of the "finer" stuff–china, jewelry, the nice couch, lamps, etc. On one table was a box containing good hundred or so political buttons, or pins (see photo above.)
What's the deal with buttons? You find these at estate sales everywhere. This being Minnesota, you'll find the usual collection of Mondale, Carter, Humphrey, and local political buttons, but also buttons celebrating a school homecoming, some U of M event, or, quite frequently, a collection of reprinted political buttons going all the way back to President McKinley and his VP Teddy Roosevelt.
Digging through this box, and getting poked repeatedly (remember that tetanus shot, people), I was fascinated to find that the person who owned this modest pad was a taxi driver, a member (according to the buttons) of the Guild of Taxi Drivers and Associated Workers. So maybe he or she was a mechanic or dispatcher. But it seems as if they were a part of the noble profession of Taxi Driving.
They also repeatedly took part in the very oddly named Walk for Mankind. This meant that they were members of the Kiwanis club, which held these events through the 70s during the group's heyday. This was simply a walk-a-thon situation, where the person in question received pledges from annoyed co-workers and friends, and then walked 20 miles for a variety of causes dear to the Kiwanis. I kind of dig the lack of detail–it's not a walk for polio, or hunger, but "Mankind". How vague is that?
Unfortunately, this was one of those sales that just misses the mark–we left with two Life magazines, a few pencils, and the weird little pamphlet above, A Chronology of American Railroads, which I plan to mail to my brother. It's an odd little thumbnail history of railroads, from 1807 to 1954, when it was published, and includes tables of the "miles of railroad operated for the years 1830-1880, inclusive, and miles of railroad owned for the years 1890-1952, inclusive" (italics theirs.) You ask yourself: why would this person care, and why would they keep this all these years?
No one knows. No one ever knows.
We'll skip the totally worthless moving sale that was advertised as an estate sale in Uptown and head northeast, to Lincoln Avenue. Research shows this to be a pretty little home draped in sadness. This was the home of a widow, and I'm guessing she's simply moving on after the premature death of her husband in a motorcycle accident a year and a half ago (the guy was in his late forties.)
This was a clean, clean sale, shoes off, and one of the awful shoes off sales. By that I mean, remove your shoes, and step onto the soaking wet rug so that your socks can absorb all that nice, cold water. Which means you also traipse that all over the house.
This is the place I found the sheets. I'm proud to say that I zoomed in on them in a pile of other linens that were more like the sheets I typically find–ugly, worn, not worth a quarter. But these were a set of L. L. Bean sheets, barely used, and at four bucks, perfect. I washed them when I got home, and damn, they are comfy.
But the rest of the home was filled with great stuff. This is what you can get in a clean sale–no decent books (lots of computer manuals), no weird buttons from forlorn unions, no stinky Life magazines commemorating Kennedy's assassination… no, this is where you find beautiful Swedish stainless steel salt and pepper (and sugar) shakers like you see to the left. Or measuring cups, or a Nordic ware bundt pan that probably was never used.
If we'd needed a bed set, there was a beautiful Ethan Allen set, bed, end tables, two dressers, for $1,500, which is a great deal. There was also a dining room set, a buffet, couches and TVs, etc.
I couldn't help but wonder, though, where the widow was headed. According to the obit (you can find this by getting the name from the Hennepin Co. Property Tax info, then Googling the name), this was a second marriage, at least for him, all the kids bearing different last names, none of which was hers. Maybe she endured the house just long enough, and it was time to move on.
It may seem morbid to you that I look up this information, but these are stories, and stories give me the ability to have a sense of thanksgiving for the things that I buy. Which is another advantage of estate sale-ing. Go to Bed, Bath, and Beyond, and they're just sheets. Here, they actually belonged to someone. This couple used the salt and pepper shakers for family dinners, for gatherings around the World Series (probably not, probably Vikings games), used the appliances, the bed, the dining room table. Buying from estate sales reminds us of the fleeting nature of life, of the fact that you can't take it with you. Someday, the stuff I buy from these sales, the things I accumulated, will also be pored over by people like myself.  That's a good thing, I think.