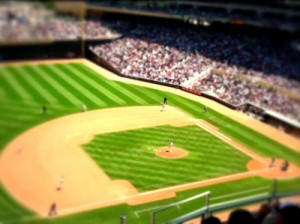 …at least for this dismal, miserable season.
Call it what you will–a collective collapse on the part of suddenly mediocre players, a perfect storm of injury after injury after injury, a sickening revelation that the youth of tomorrow are totally inept, or one of various curses (the curse of the trees, of the Metrodome, of J.J. Hardy)–this has been the worst baseball season in Minnesota since my wife and I moved here in 1994. Nothing, virtually nothing, went right.
And yet I took some some pleasure in the misfortunes of the Twins. Not because I'm such a Tigers fan that I yearn for bad luck to rain down upon the Twins. Rather, I got to see Target Field in all its sleepy, baseball-purist glory.
In my mind, a stadium isn't a stadium until its fielded its share of totally crappy teams. Now, there's nothing wrong with a team winning, mind you–hell, it's a blast when your club is in first and racing to the playoffs. Personally, I don't mind bandwagon jumpers, since it's just baseball, and the more the merrier, I say.
But when a team loses, and loses in such spectacular fashion as the Twins have made their brand this year, you find is the stands filling with people dedicated to baseball. I'm guessing the percentage of fans scoring the games rises exponentially when things are this bad. You can stretch out. You can heckle and actually be heard, in part because you can also abandon your nosebleed for some of the sweet seats near the action.
This season is one for the pure diehards. Tonight, the Twins may lose 100 games for only the second time in their history. Problem is, the last 100 loss team was full of rookies who would go on, in five years, to win the first of two World Championships. These rookies, including two men named 'Rene', are not going to be the engine that drives this team to third place, much less a playoff spot. No, 2011 is the first season on a long road of futility.
As a Tigers fan, I'm used to such futility, having endured shitty baseball for 17 seasons–from 1989 to 2005. The Tigers lost 100 games four times, culminating in that amazing 2003 campaign that resulted in a 43-119 record. They lost 90 games five times.
You have to roll with those punches, you know? You have to find small pleasures, like listening to the dismal games on the radio on a long autumn drive. Or watching some mediocre farm hand have two excellent at-bats in an 0-4 night, and take pride in yourself for seeing the achievement that the statistics won't reveal in the cruel future. Or cheering your club on when they play a team on the playoff bubble, or, in the case tonight, cheering on the Twins to win a game and keep them from losing 100 (as if 99 weren't bad enough.) You strike up conversations with the other die hards, and remind yourself that baseball, even bad baseball, even horrible, demeaning, soul-crushing baseball is a joy. This slog through the mud of failure is what makes the pastures of victory so special.
So tonight I'm off to the last game of the season. The last ride on my blue Raleigh past the roaring Burlington Northern Santa Fe locomotive (I hope.) The last race between a mosquito, a loon, and a dog, the last worthless Treasure Island Bingo, the last trivia questions, the last raising of the flag by a dignified veteran, the last time I watch the kestrel chase those fat moths in the shallow atmosphere above the diamond. At least for this year.
And then I can turn my attentions where they belong: to the Detroit Tigers march to the Pennant.
Observations
Is it just me, or does it seem patently bizarre that the Twins have had so many viral infections and other flu-like ailments? It's one thing for a team to go down to on the field injuries like concussions and torn muscles and twisted ankles, but pneumonia and viral infections have plagued a number of people on the club, most notably Joe Mauer and Ron Gardenhire. Are they pumping Legionnaire's Disease through the clubhouse AC?
I am going to sorely miss Ozzie Guillen. By miss, I mean that his departure to Southern Florida means that we won't see as much of him–if any of him–here in the AL Central, which sorely needs colorful managers like Ozzie. I remember reading some reporter's "favorite Ozzie moment" which was clean and bland and suitable for a family paper.
Mine came in a game in 2007, when I was covering the Twins at the Dome for the City Pages. Someone asked Ozzie what he thought of the proposed ban on beer in clubhouses after the games. A Cardinals pitcher whose name I don't recall, and whose I'm not going to bother to look up, killed himself drunk driving after getting plastered at a few bars after a game. In fact, the dude hadn't drank any of the beer provided by the Cards.
Ozzie went nuts, raging on a tangent filled tirade that, if my memory serves, basically went as follows: "I should be able to drink what I want or have sexual intercourse with whomever I want without baseball telling me what to do." Except that that his argument took ten minutes, he used every curse word beginning with 'b', 'c', 's', and 't', called women whores and pointed to the stands, and called the dead pitcher a punk. By the end every reporter's tape-recorder had been turned off, guys just nodding and smiling and wishing there was a world where you could print this shit and still get paid.
You can brag all you want about your six division titles, Twins fans, but Ozzie Guillen is the man who made the White Sox the team of the decade in the AL Central. Yes, the Twins won more titles, six to the Sox's two. But one of those resulted in an AL Pennant and a World Championship. In twenty years, Chicago will still be remembering that magical 2005 season. A string of division titles? That's just a long line of flags, gathering dust on an outfield wall…