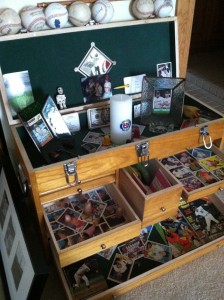 For, lo, the winter is past, the rain is over and gone; The flowers appear on the earth; the time of the singing of birds is come, and the voice of the turtle is heard in our land… –Song of Solomon, 2:11-12
Every Tigers' fan worth her salt knows that Ernie Harwell always opened spring training with those words from the Song of Solomon. He then followed them with "Happy New Year, everybody, and welcome to Tiger Baseball!"
Oh, boy, do I miss that greeting. I don't really dig following spring training too closely, but I would often tune in to that first afternoon game from Joker Marchant Stadium in Lakeland, Florida, just to hear those first words, usually drifting from my radio as I stared glumly out at a frozen Michigan wasteland. It was February, after all.
I am facing some strange disarray in my love of baseball. Usually, I'm a grump, and a grump whose existential malaise has been growing every year. Admittedly, I have a serious and deep-seated prejudice against the rich, and baseball players, as I've written before, are eager members of the 1%, willing to leave teams just because another club added more money they don't need to an already grotesquely large pot. The fact of the matter is that most ballplayers don't really care for the great unwashed all that much.
Let's get the hate out of the way: I hate this sickening wealth when teachers and nurses and other good people are struggling. I hate the owners. I hate that many of these new stadiums are choked with boxes favoring the rich (and those wishing to be rich) and were paid for with public tax dollars while schools suffer. I hate that the World Series will be on Fox and celebrate our military might. I hate that people equate the Detroit Tigers' success with the city of Detroit being successful, too, when what it needs are jobs and people living within its borders.
Those are, in my mind, legitimate gripes. I've griped about them many times before, and in truth, after the World Series, they become acute problems and make me seriously consider walking away from the sport forever. Fact is, I know too many good people who are damned happy without following any sport. You don't need baseball to smile in this world.
But more and more I find myself being drawn closer to this Goddamn game, and I don't think it's just the success of my team, the Tigers of the Great and Proud City of Detroit. Winning certainly helps, but I was not as engaged with the Tigers in 2006, the last year they made it to the World Series.
Two things are happening in my life as never before: Radio. And mojo. Radio, via the iPhone app "MLB At-Bat" allows me to tune into the Detroit Tigers from afar. I guess I never realized how much this sends me careening into the past, a place I enjoy visiting. My whole young baseball life, the life before cable TV (I am that old), meant sitting with my Grandma and Aunt Mary and listening to the Detroit Tigers on the radio. Ernie Harwell and Paul Carey, so many games, at Grandma's house, in her maroon car that smelled like her Benson & Hedges, up at the lake cabin playing canasta. So wonderful.
Fortunately, Jim Price and Dan Dickerson are great broadcasters, good storytellers, great at keeping you engaged in the game (and hopefully our new Twins broadcaster has some success keeping Dan Gladden in line.) Now, I plug in the game–the Tigers game–when I cook, when I drive, when I'm sitting at home scoring a game (maybe I shouldn't admit I do that.)
In those moments, over a broadcast through a phone, hearing the sounds of the crowd, murmuring, Jim and Dan remarking about Verlander's curve ball or Jackson's bad swings, enjoying as I do the quaint ads for Belle Tire, Faygo pop, even the Sports Medicine doctors who have the Four Tops' "I'll Be There" playing while they try to convince you to use one of their clinics, baseball becomes, well, baseball. I forget about the money, the new stadium that just isn't Tiger Stadium, the excess that has become fandom in America in the 21st century. To use the old saw: it becomes like old times.
Then there's the mojo. I think as I get older and, oddly enough, more entrenched in my atheism, playing nervous nellie with his chest of amulets is becoming more and more fun… and perhaps more and more necessary.
As you can see from the photo at the top, I've created yet another Shrine of the Tiger. I use this thing to help connect me with this corporation known as the Detroit Tigers. With pictures of Fidrych, my Grandma, and scores of little magic trick props of my father's, I'm hoping that it brings my club, my Detroit Tigers some luck. Not some luck, all the luck. That it takes them to a World Series championship.
I don't really mean that of course, I'm too smart for this type of crap. And, as you also know, no one makes anything like this and doesn't believe in it, if only a little bit. Or, secretly, a lot.
This year I'm also hoping the Shrine purges some negative energy as well. There's some of Dad's 'funny money', an acknowledgement to the horrible amounts of money it takes to make a decent team. A coin sits beneath a photo of the next day's pitcher, in the hopes of enticing him, magically, to do well. I am trying to accept that this is a reality.
So I am hopeful, but terrified. Frankly, I am not a man who finds all the portents about the Detroit Tigers' inevitable American League Central Division title all that reassuring. ESPN, the New York Times, and others are all predicting a runaway victory in that department, and many have the Bengals clawing their way to the World Series title.
Well, I certainly would be excited about such a thing, but really, how many times have the pundits' crystal balls come up short? Too many times to mention. What gets my nerves a'twitter is thinking back to 2008, when the Tigers were featured in a Sports Illustrated article that questioned whether or not their lineup was the most potent in the history of the game.
As we know, that year's team ended up dead last.
But the Tigers of 2012 are creating for me the same pure joy and elation that the 1984 Detroit Tigers did (even as I don't expect them to start the year 35-5!) Prince Fielder is exciting, Verlander and Fister could be a dynamite one-two punch, and Valverde, oh, my–after the last game I think he's going to leave us all feeling a bit woozy after the games. Which is good.
Bill Veeck once said "baseball must be a great game, because the owners haven't been able to kill it." But in reality, it must be great because owners, players, politicians, and you know what, even us greedy fans have not been able to kill the thing. Or make it any less enjoyable. I've left out that other great joy: talking baseball with others, which I also take for granted, and would make walking away from the game that much harder, too. In the end, it comes down to that sheer joy of watching a game, and all its attendant pleasures, all of which involve people, good and bad and ugly. Maybe I'll feel more bitter toward the end, when the Tigers are done and baseball begins to reveal more of its ugliness in the offseason. But until then, I'm a hopeful baseball fan, ready to take my blows one more year.
I might just be able to gloat a bit over my fellow Minnesotans this year. Which is a special joy in and of itself.