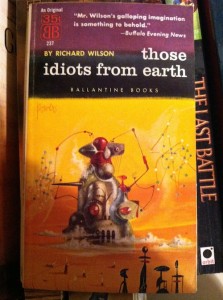 Old clothes hanging on the water pipes and stove door handles. Old shoes in boxes by the door. Old hats in apple baskets beneath the window sill. And because old hats, old shoes, and old clothes bear forever the stance and shape and bulge of the mortal flesh that wore them once the house of the old woman was a place of reflective ghosts, of elbows and bosoms and shoulders long gone into the dust or wandered away down Peacock Alley to count their pennies on Poverty's own lean palm… –Davis Grubb, The Night of the Hunter
Count your books, friends. Glance at them on your bookshelf, run your fingers along the spine, flip through the pages and sniff them. Find old notes, bookmarks, dogeared pages, marvel at the illustrations or the type, put one in each hand and compare the weight. Who knows? One day we might not have any more books made from paper. One day, half the titles in your obscure collection might be gone, forever, victims of an ever encroaching technological landscape.
This weekend, full of chill and sunshine, was also one dedicated to the fine art of reading. We visited two sales, one in Bloomington, one in St. Louis Park, that offered a plethora of wonderful surprises, and a glimpse at the 'lost' art of reading. or at least, the lost art of reading old paperbacks and not caring a whiff about whether they were of value or not. They just read.

Our first sale took us south, to Bloomington, and the home of a collector of Science Fiction. This was the abode of a gent named Alvin, whom I don't think was deceased but moving to a retirement home. Man, did this guy love his Sci-Fi. Walk in and there were tables and tables of old, valuable books, and stacks of gorgeous Astounding Science Fiction magazines. So cool that at one time a living could be made not only printing a magazine like Astounding Sci-Fi, but writing stories or illustrating same. Valuable… and not so valuable.
See, back in the day, people bought their books, read them, and reading them meant that they bent the spine or spilled coffee or cheap beer or soda pop on them, stuck them onto shelves without protective mylar covers, the works. Alvin had a few, like Heinlein's Citizen of the Galaxy (the blue one in the middle left), that had some value. But only some. For starters, that same hardcover, in that same condition, sells for about $150 on Abebooks.com (they have it for $250.) One, you don't sell at an estate sale books for the price as they appear online. $75 is a fair price. But you also don't fucking put post-it notes on a soft paper jacket. I told them this, and the woman at the register just scoffed. Their funeral, I guess.
Outside of this front room, there were the usual suspects: old clothes, kitchen items, the junk of a man's life for sale cheap. Worn and now commanding very little money, most of it fated for the dumpster. Frankly, at this point, we were a bit disappointed: the whole reason we hit this sale was because of its "huge" science fiction collection, which is Janice's game all the way. But those in the front room were far too expensive, and it appeared as if there weren't much more. Until we hit the basement, and there it was: the reading room.
Here we go! Tables full of hardcovers in the center of the room, but walls full of thousands of lovely pulp fiction paperbacks. I'm not much for sci-fi, old or new, but I could stare at those covers for hours, and did. Weird titles, like Those Idiots From Earth (top) and The Marching Morons (left.) Thousands of these pretties, like Citizen in Space (right.) Little paperbacks, fit in a coat pocket, with yellow or red colored edges, fantastic design, and silly visions of the future. The stuff of Twilight Zones at best, crappy B-movies at worst.
Janice grabbed a big pile, and I stocked up on J. G. Ballard, Day of the Triffids and Invasion of the Body Snatchers (two classics?) as well as a stack of Theodore Sturgeon for my friend Mark (and one for myself.) Sturgeon, a prolific, curmudgeonly writer, was the inspiration for Kurt Vonnegut's Kilgore Trout. And so it goes.
Problem was, if you were interested in selling the books, you were out of luck. Alvin's library was in his basement, and like many folks, he did not see the wisdom of a device called a dehumidifier. So the books had a slightly musty air to them, which is bad.
But they were also bent a bit, because, well, because Alvin loved to read. I overheard someone ask the sales rep (from a new company I've not heard of, and who were assisted by a "book expert" who seemed only to steer them wrong) if the owner of the place had read all these. "He read every one," she said. "Every single book and magazine, cover to cover. Zowie.
That was a Friday sale, and Saturday we had just enough time to visit another in St. Louis Park, that was, serendipitously, the home of another book lover. This was the home of Gordon, a lifelong teacher whose love of reading made his (and his wife's) collection remarkable.
Again, these were all reading copies–bent, twisted, but this time not stinky, thank God. However, again, the people who ran the sale had no clue how to organize this stuff. On the main floor were tons of those slipcovered Heritage Press books that were so popular back in the 60s. These were notable and stately titles like Moby-Dick, Emma, the works of Steinbeck, Dostoyevsky, Tolstoy, the masters, all profusely illustrated, none worth a lick since there were, apparently, tons of these made, and everyone held on to them like so many National Geographic magazines. Look on eBay and they sell for about four bucks each. But they are good looking.
Problem is, these fuckers were in unruly piles on tables and scattered across the floor. A good five hours of effort on the part of the sale company (who took time to price these bastards) would've resulted in a more organized sale that would've probably sold more. Upstairs, the owners had their books on shelves, and there were some great film titles: two memoirs by Robert Parrish (a great film noir director and child star of the silent era); Ezra Goodman's great work of grumpy criticism, The Fifty Year Decline and Fall of Hollywood (which opens with Goodman tricking D. W. Griffith into an interview with a blonde and a bottle of gin); among many others. In the basement, piles and piles and boxes and boxes of old paperbacks.
Here was where I found most of my swag. The J. G. Ballard that I was looking for, Empire of the Sun. A paperback of one of my favorite novels of all-time (and rare); Davis' Grubb's The Night of the Hunter; a couple of beautiful Cornel Woolrich pulps, including The Bride Wore Black; Speed by William S. Burroughs, among others (see my pile at the very bottom). Oddly enough, these were mostly British versions, since the gent in question had, according to his obit, served in the military and taught at a London school for U. S. military families. There he met his wife, whom I'm assuming was also an avid reader. Our man had varied tastes, including this wacky book The Horse is Dead.
Ha! What a silly book. See, I took a snapshot for you to enjoy, and left it behind like so much trash. Discovered this morning it's going for $150 online… at the cheapest (most sell around $250). Had I bought the thing, I might have offset the $150 speeding ticket I got returning from the sci-fi sale. It's so rare its condition, which wasn't bad, is transcended, and I could've got probably $75 to $100 for the thing. Sigh.
It's always a joy to come home with a pile of new books, and my one discovery even prompted me to reread The Night of the Hunter. Like the old clothes in Miz Cunningham's second-hand store (the quote at the top), these books have the bends and bruises from being read and enjoyed. From being a portal of storytelling from author to reader. Gordon picked up The Night of the Hunter in the 70s, and I'm hoping he enjoyed it, though it's hard saying since it was in the bottom of an old box in his basement (his family apparently employed a dehumidifier since these don't stink at all.)
I've said this before and apologize for being both grumpy and repetitive: these sorts of sales are not long for the earth. eBooks are sure to thrive–what technology hasn't thrived when introduced?–and with them will go the feel of other human beings who have enjoyed the story. For starters, as the computers and readers get obsolete with time, the books we're reading today on our Kindles and iPads and Kobos are sure to need updates, much in the same way an old Word document from the late 1990s can't be read today. But even if you could keep your eBook forever, it'll never have that dogeared page, that strange note, that smell of tobacco, that bent spine indicating an afternoon in the company of Davis Grubb. The "reflective ghosts" will fade, never to be seen again…