Baseball fans are a fortunate lot, especially in October. Whether or not your team is in contention–as a Tigers fan, over the years my team is quite often not in contention–there's always a ton of great baseball coming your way. There's nothing better in my mind than the cool of autumn and the thrill of those playoff and World Series games. Even when they are broadcast on Fox.
But set aside the game itself–the highs and lows, the miraculous plays and the dunderheaded moves that make you groan–and the drama that is inherent in baseball, and marvel at the accoutrements, as thrills are evident in all sports. What baseball fans have over other athletic events is our history–and that is unique in all the sports.
Yes, it is true that basketball, hockey, and football have history in a literal sense. They've been around for many decades, true. But it's also nearly literally true that fans of those sports don't give a flying handshake about their sport's history. They just don't. Yes, you have old farts looking back fondly at Bud Grant's Vikings of the 1970s, but show me a kid, someone born after that era, and you'll see someone whose eyes glaze over at the mention of Fran Tarkenton. What they care about is now. There is nothing else.
But baseball fans! Holy cats, do we love our history. True, kids get into the players from their own time first and foremost, the golden age that exists in their youth (mine was the late 1970s), but give these youngsters a few years and they are rattling off the hallowed numbers and dates of the pastime: 56, .406, 755, 1951, and so on.
This weekend found Janice and I wandering a barren wasteland of estate sales in Minneapolis and Edina, coming home with only a few books and a nice, thick robe that I'll spare modeling for you. But this week's sales paled compared to one I stumbled upon on the edge of Edina, that of longtime Society of American Baseball Research (SABR) member Frederic J. Souba, from whose home I bought some wonderful books, scorecards, cans with pictures of 70s ballplayers, and found an old sign from Nicollet Park that I promptly donated to the Minnesota Twins. Oh, baseball!
Fred passed away this summer at 94 years old, and was a man who loved this nation's pastime, as evidenced by his participation in SABR and his collection. His home was a 70s style rambler, on one of the busier streets running through Edina, a comfortable place that he shared with his wife and kids and grandkids. My guess is that he enjoyed sharing baseball with all of them, too.
I wonder if his wife gave a rip about the noble sport, as my own wife does not. She tolerates this distraction of mine, dutifully getting out of the way this month as the TV is hijacked for baseball and the many, many shots of warplanes flying over stadiums on Fox. Baseball can bring both joy and despair to a family–Janice can't stand sports (except the Olympics), but tolerates it out of her love for her husband, poor girl. Perhaps that's why she enjoys so much this one baseball song, "Baseball, Baseball!" by Jane Morgan with its lament by the sports widow, who wonders aloud whether her man is even human. (Click on the link to play this tune while reading the post.)
Also: tell me a single song about the other sports as snappy as that one. Don't think about it–you can't.
Fred's house was neatly divided into the places where baseball asserted itself and the places where baseball did not exist at all. It had a very strange almost split-level layout–to your right is the living room with the furniture, decorations, and the like: a sun room, dining room, kitchen bedrooms. Maybe this was deliberate–maybe the missus had had more than enough baseball, we'll keep the house neutral, thanks. But head into the wood-paneled basement and oh, boy, there's the place where the men go to play. Or read. Or ruminate on their favorite sport.
Books and books and books and… cans. Yes, as you can see to the left, Fred collected RC Cola cans from the 1970s, the ones that featured the prominent, and mildly prominent players of the day (he also had boxes of RC's football equivalent.) Taking the time to punch holes in the bottom, as collectors do (so as to give the illusion that they're still unopened cans), they were clean and spiffy and indicated that Fred drank a hell of a lot of RC Cola back in the day. I grabbed the trifecta of Detroit Tigers: Mark Fidrych, Ron LeFlore, and Rusty Staub, the team's three starters in the 1976 All-Star Game.
One of the weird quirks of the house was that there was a room above the built-in garage, at the end of the hallway where you accessed the bedrooms, and this served as an attic. Normally, this would be another room, but take a left and there was an unfinished room of exposed beams, no insulation, and a wood floor. And here were the best books, scorecards, and about four more boxes of those cans, unwashed, crammed in boxes.
The books were in great shape, old, sometimes silly titles that only a baseball fan would love–like Charlie Grimm's biography Baseball, I Love You! Grimm–aka Jolly Cholly–was a colorful manager and player who also, as you can see, played banjo left handed. Baseball's Library is filled with little bios like this one, from decent-though-not-great-pitchers like Sal Maglie, to ruinous tales of 70s debauchery (like Joe Pepitone's horrifying Joe, You Coulda Made Us Proud), to fun volumes like Jolly Cholly's.
But there were also stacks of old scorecards, including a pair of strange scorecards from 1933. Now, I didn't know they were from that particular year until I started doing my homework. I just bought a bunch of scorecards, many from All Star Games (including 1977, 1984, and 1986), and two of these old, old numbers that appeared as if they'd been torn from the pages of a larger program. It was only when I got home did I notice they were filled with autographs.
Written in pencil are the names Joe Glenn, Joe Hauser, Jack Hallett, Ernie Smith, and, amusingly, "Mrs. Joe Hauser." Wikipedia reveals these men to have been former major leaguers, nothing to write home about, thriving, such as they did, in the early part of last century. Do a little research and you discover that they were all members of the 1933 Minneapolis Millers.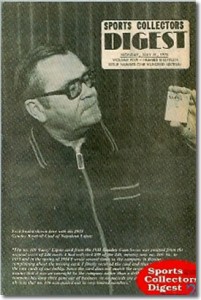 Fred seemed to have an affection for the great Millers minor league club. I won't go too deep into their history, except to note that they were both an independent team and an affiliated club in their history (with the Giants), and had such players as Ted Williams and Willie Mays and Ray Dandridge wear their black and orange uniforms. Now, Fred was definitely a man who collected memorabilia, as evidenced by this photo, from the cover of a 1978 Sports Collector's Digest, in which he's showing off his valuable Nap Lajoie card (and no, I didn't see that one there.) So maybe this scorecard full of Millers (and one wife) was purchased. And yet, do the math, and you can imagine Fred Souba, all of fifteen, a baseball fan in a city without a major league club, at a time when the minors were followed with equal fervor, heading to Nicollet Park to get a bunch of autographs. Even if the players weren't all that hot (though Joe Glenn whacked 17 home runs and hit .333 that season.)
Then there's the sign. After wandering through the house, buzzed on the growing stack of books and scorecards in my arms (and wasting precious time thumbing through every book in every room hoping to find some tucked away baseball card), I wandered into the living room, thinking maybe I'll find some household items of note. There, on the old couch in the sunroom, was this sign (left), hand painted on pressboard: "To Ladies Rest Room."
There was a typewritten card affixed to the front that detailed the sign's provenance:
This sign was taken from the left field runway of old Nicollet Park by Dick Kent on hte last night the Millers appeared there, Wednesday, September 28, 1955. The Millers won their first and only Little World Series from the Rochester Redwings [sic] that night as Al Worthington stopped the Redwings in relief, 9-4, as the Millers took the series 4 games to 3.
You can imagine my thrill, uh, at owning a Ladies Rest Room sign. Still it was from Nicollet Park, the same park that Ted Williams roamed in, the one that Willie Mays blasted home runs out of.
And I think that's one of the other joys of our sport–community. I'm a lazy member of SABR (pay my dues, never participate), but bring together baseball fans and we can talk for ages on subjects that date back to the middle of the 19th century–and often do. We talk about books, we talk about movies (typically awful), we talk about managers and executives and players and sportswriters who thrived and lived and died long before we were born. Before our parents were born.
If I had bothered to take in the local SABR chapter's many events, I would've no doubt met Fred, could've heard some of the amazing stories. Like the fact that when he retired, instead of buying him a gold watch, the stockbrokers pooled their funds and flew in one of Fred's favorite players, Enos Slaughter, to attend the party and wish the man well.
As I stared at the Nicollet Park sign, I couldn't help but think that a), it's a bit weird and b), it probably belongs with people who'll appreciate it. Fortunately, the Minnesota Twins have in their employ a man named Clyde Doepner, a former high school history teacher, and master of Minnesota baseball memorabilia. Throughout the new park are kiosks displaying various artifacts from state teams, like the Millers and Twins. And so I donated the sign to them, and Clyde tells me that next year it'll go in one of the cases for the thousands of people to see or ignore as they wander to their seats.
That's a good thing, just as baseball, as maddening as it can be, is also a good thing. Aside from the obvious–it's exciting, you watch it outdoors, etc.–this crazy game has introduced me, both through being a fan and a writer, to incredible people. And it's got me a ton of cool books, which transport me around this great country at various times in the last 150 years.
So this article is dedicated to Fred Souba, who watched the games and shared his love of baseball with his friends and his community.